Contact Us
Confederation of Chinese Metalforming Industry
Add:10/F, Boya Tower C, Zhongguancun Life Science Park, Beiqing Rd., Changping, Beijing 102206, P.R.China
Zip:102206
Tel:+86-10-53056669
Fax:+86-10-53056644
Email:
metalform@chinaforge.org.cn
PMTT on-Site


On-site Promotion Meeting for Technology and Talents
The integration of production, study and research has been advocated by the state for more than 30 years. With the in-depth development of reform and opening outside of the world, and the evolution of innovation forms, enterprises need more advanced technical support. Industries, university, scientific research institutions, etc. should cooperate with each other, give full play to their respective advantages in technical resources and industrial resources, form a powerful advanced system of integration of research, development and production, and embody the comprehensive advantages in the process of operation, which has become the mainstream of industrial development. In order to better put the achievements of universities and scientific research institutions into the actual production of enterprises, CCMI, the Organizer of MetalForm China, has been carrying out the matching activities of project docking and talent promotion among universities, research institutes and enterprises before, during and after the exhibition, so as to establish an exclusive platform for universities, research institutes and enterprises and solve the urgent problems of enterprises. The technical problems enterprises meet should be better integrated with the advanced achievements of universities and scientific research institutions, so as to achieve the combination of production, study/research, and jointly promote the exchange of industries and the progress of industries. From 2020, MetalForm China will set up a pavilion for display of the "Scientific Research Achievements", which will be provided free exhibition for colleges and universities and scientific research institutions (without enterprise nature), and set up a negotiation and exchange area at the corresponding location, so as to provide technology and talent docking services for exhibitors, visitors, colleges and universities and scientific research institutions.
1. Purpose of the Activity
Enrich the on-site activities of the exhibition, provide value-added services for exhibitors and visitors, and promote the integration of production, study and research.

Promote the actual transformation of existing scientific research achievements of universities and research institutes in enterprises.

Promote enterprises, universities and research institutes to jointly develop new products and technologies.

Assist college students in employment, provide technical development research direction for professional talents of colleges and universities and research institutions, find cooperation objects, and keep the professional talents in the industry.
2. Form
Free booths in a special area are provided for colleges and universities to publicize their achievements, it is suggested that colleges and universities and research institutes send one or two students and teachers who are familiar with the project to work on the site. For colleges and universities that need to promote the employment of students, please contact us separately and distribute them on the website and by mobile phone client.
>Before the exhibition:
distributed before the exhibition: 80,000 copies, including exhibits of all exhibitors, information of activities in the same period, project docking name and it briefing, etc., of which about 60,000 copies are directly mailed to potential audience, and the remaining 20,000 copies are sent to exhibitors and audience on site.
Publicize through the mainstream media , , covering more than 100,000 professional readers.
Wechat, Internet, MMS, E-mail Promotion: these means can accurately affect about 100,000 potential audiences.
The latest submission time of publicity materials shall be no later than 45 days before the exhibition opening.
>In-Exhibition:
Results show:
Free booth, together publicity and display of many universities.
Background board at the entrance of the exhibition hall: name of all projects + unit name + display content.
Video played on Background TV: provide introduction by video to the project and play it in a circular manner.
3. Results Publicity:
There is at the exhibition site. Due to the limited lecture time, it is necessary to apply in advance. If there are many colleges and universities that give lectures, we can open a special small lecture areal in the rest and negotiation area.
The key achievements will be recommended to the industry by and
Exhibitors are welcome to promote this activity. If colleges and universities and scientific research institutes need to participate, please carefully fill in the ↓ < Registration Form of Scientific Achievement >文件预览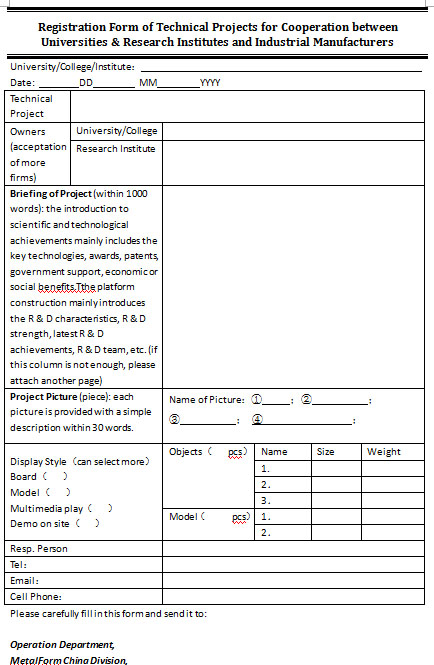 Click to Download↓, and send it to: , and send it to:




Public Relations and Visitor Service Department,

MetalForm China Division,

Confederation of Chinese MetalForming Industry

10/F Boya Tower C, Zhonguancun Life Science Park,

Beiqing Rd., Changping, Beijing 102206, P. R. China.

Tel::+86 10 5305 6669

Fax: +86 10 5305 6644

Email:metalform@chinaforge.org.cn